The 2019 Summer Heatwave broke for just long enough to deliver some fruity conditions for the 40th Anniversary Impala Nationals, hosted this year by Weymouth Sailing Club. Despite a few last minute drop outs, the fleet was a big one, with sailors from around the country converging on Dorset for some close racing.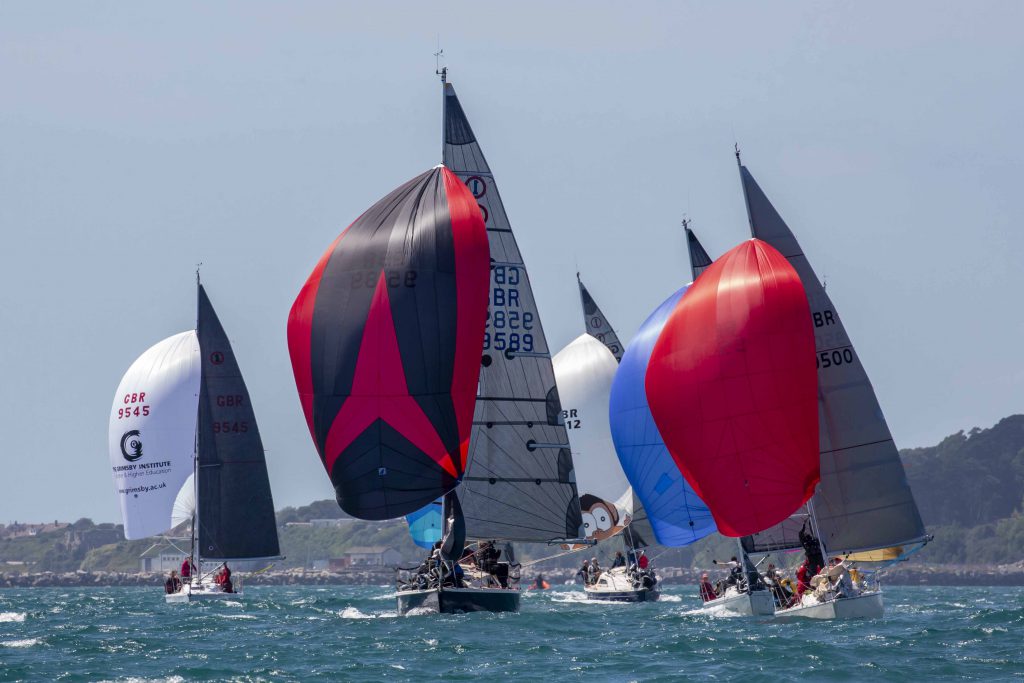 Back this year to defend their title was Ian Macmillan's Checkmate, helmed once again by Steve Goacher. Other quick boats converged from the Impala hotspots of Plymouth, Poole and the Solent for three days of racing, supported generously with a huge haul of prizes by B&G, Spinlock, Rooster Sailing and Dart Sails.
Day one saw gusts in the high 20s, along with horizontal rain and a misty murk that made identifying the marks a painful experience – and many boats were to be found over-standing the windward mark before they could ping it on their GPS for the next leg. Checkmate found their form and posted a trio of firsts in the big winds and large waves, with Impulsive (Dominic Hanley), fresh from a major refit, Plymouth-based Imelda (Robbie Boalch) and Polly (Meakins and Cudmore) all snapping at her heels. Racing was close throughout the fleet, however –with Cheeky Monkey (Aiden Barr) showing some good results along with Parallel Universe (James Walker) and newcomers Moonshine (Myles Uren).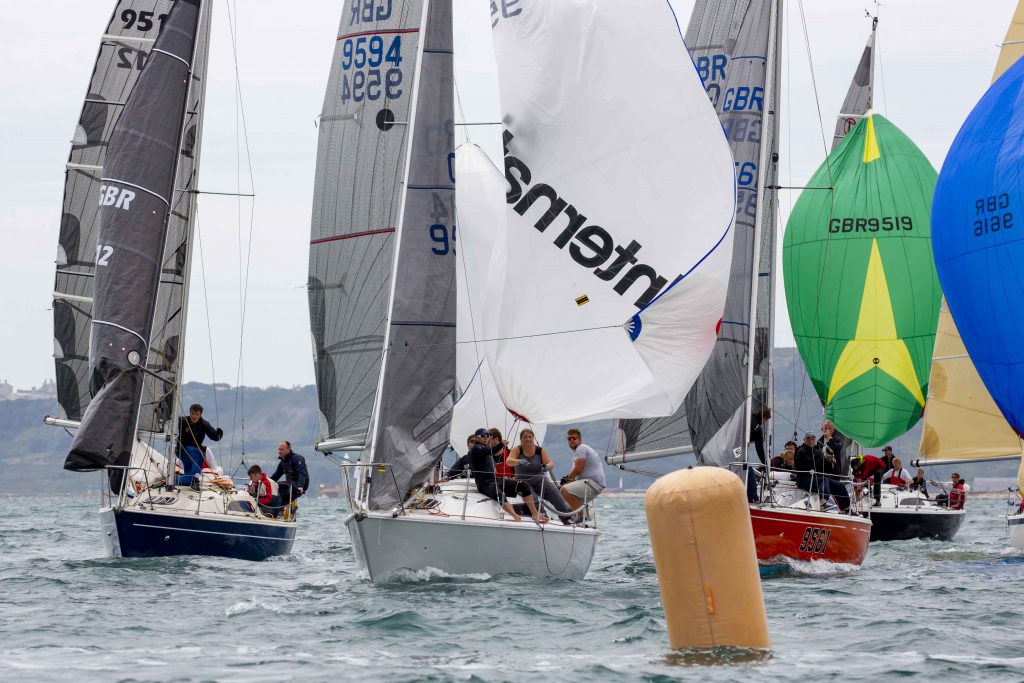 The usual rum party, organised by the crew of Voodoo (perhaps as a way to sabotage the rest of the fleet?) succeeded in sinking the pontoon after racing, with a Hog Roast to revive competitors before the now-infamous Hound Dog Games brought back the fleet's competitive spirit.
Saturday was marginally less windy but significantly more pleasant – with most of the fleet able to switch to their no2 headsails. Checkmate had another run of firsts, with Impulsive, Imelda and Polly in close contention behind them. A windy round-the-cans race finished off the day, with a few cautious spinnakers hoisted and some impressive sailing from the frontrunners.
A 40th Anniversary dinner rounded off the day, courtesy of Weymouth Bowls club and some delicious food.
Despite an initial promise of light airs, Sunday dawned with a good 15 knot breeze for the final two races. Polly crossed the line first in the final race, to discover they were OCS – and so had failed to dent Checkmate's well-deserved, perfect scoreline. Impulsive sailed a rapidly improving series to secure second, with Polly third and Imelda fourth.
The last thing before the boats headed home was the prizegiving, where over £2,000 worth of prizes were awarded. Fleet newcomers, Moonshine went home with a new B&G Vulcan chartplotter (just as well, as a spinnaker hoist had removed the back of their old one!) and a good number of prizes including Spinlock lifejackets and Rooster and Dart Sail products were distributed through the fleet.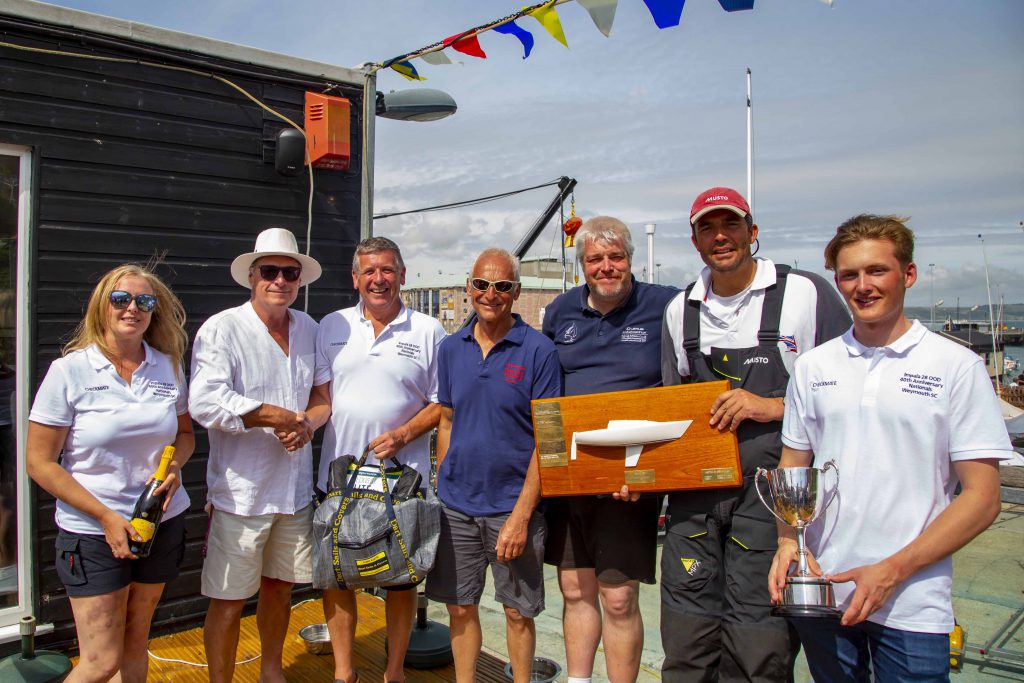 Thanks to Adrian and Iain at WSC for some excellent race management and general organisation, to the crew of Voodoo for their outstanding socials and to B&G, Spinlock, Rooster and Dart Sails for their generous support.
What a great event – with the usual friendly crowd, close racing and a good entry – not bad for a design that's 40 years old! The Impala is still a dream to sail and offers an unbeatable mixture of excellent value for money, close one-design racing, competitive IRC rating and versatility – you can race inshore and offshore, handicap or one design, or head off cruising and the boat will take it in her stride. Come and join us!
Photos:
Friday photos taken by Louis Goldman
Saturday and Sunday photos taken by Tim Olin
Results: 
| | | | | | | | | | | |
| --- | --- | --- | --- | --- | --- | --- | --- | --- | --- | --- |
| 1 | Checkmate | (1) | (1) | 1 | 1 | 1 | 1 | 1 | 1 | 6 |
| 2 | Impulsive | (4) | 2 | 2 | 2 | (3) | 2 | 3 | 2 | 13 |
| 3 | Polly | 2 | (4) | 4 | 3 | 2 | 4 | 2 | (16/OCS) | 17 |
| 4 | Imelda | 3 | 3 | 3 | (5) | 4 | (5) | 4 | 4 | 21 |
| 5 | Fearnought | 7 | (11) | 10 | 4 | 9 | 3 | (16/OCS) | 5 | 38 |
| 6 | Cheeky Monkey | 6 | 5 | 7 | (12) | 8 | 6 | 6 | (13) | 38 |
| 7 | Parallel Universe | (9) | 9 | 6 | 8 | 6 | (10) | 9 | 3 | 41 |
| 8 | Imptish | (12) | 6 | (16/RET) | 7 | 7 | 11 | 5 | 8 | 44 |
| 9 | Vlad the Impala | 5 | 8 | (16/RET) | (10) | 5 | 9 | 10 | 9 | 46 |
| 10 | Moonshine | 10 | (13) | 5 | 6 | 11 | 8 | 8 | (12) | 48 |
| 11 | Uproar | (15) | (14) | 11 | 9 | 10 | 7 | 7 | 6 | 50 |
| 12 | Firebird | 8 | 12 | 8 | (13) | (14) | 12 | 11 | 7 | 58 |
| 13 | Voodoo | 11 | 7 | 12 | 11 | 12 | (13) | (13) | 11 | 64 |
| 14 | Hound Dog | (14) | 10 | 9 | (15) | 13 | 14 | 12 | 10 | 68 |
| 15 | Atalanta | 13 | (15) | 13 | 14 | (15) | 15 | 14 | 14 | 83 |