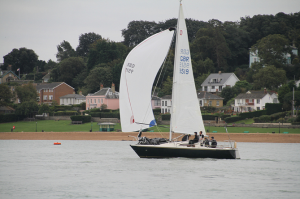 It was a light-winded few days on the south coast this weekend. On Saturday, Magic, Two Frank and Polly raced in the last JOG race of the year – the Eastern Approaches race, which turned into a light wind drift down to the forts and a gentle beat back in the last of the summer weather. Polly won the race, with Frank 7th and Magic 9th.
That handed Polly 1st overall in the JOG Inshore series, with Magic 4th and Two Frank 8th. A good Impala showing!
Sunday was the first of the Garmin Hamble Winter Series – but nothing to report there other than a pleasant day spent drifting around under AP.
The local Impalas are doing the 2nd weekend of the HAmble One Design Champs on 26/27th Oct – come and join in!