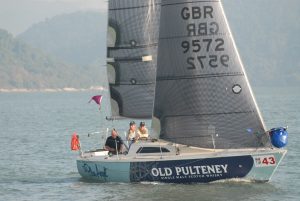 Jeremy Camps writes from Malaysia:
'Having owned one of the last   Impalas built  in the 80s , cannot remember the number and although called Cabaret 2 I insisted she be renamed, when I was looking for a light weather boat for our usual minus 10 knot breeze in Malaysia I though of the class, real pocket cruiser, lovely to sail fully equipped  and safe> I looked at quarter tonners better rated but a bit too basic (no head room) and having had so much success with my Beneteau First class 8 here really did not want to go back to that.
So thanks to the Impala website and the Duck listing I found and purchased Implacable  from Medway not too far from my UK base in East Sussex, the owner Keith Lennox was very  helpful as were the Medway Yacht club and having bought a new trailer (I am sad to say now used as a launching trolley as we dry sail ) all was assembled and towed to Southhampton to be loaded on to the RO RO for Port Klang, Malaysia. She came off to my relief as good as ever. No one can believe she is 37 years old….
She is enjoying her new home  and as her owner  the warm water and weather of Malaysia. Dry sailing is a must because of the rubbish and pollution coming down the River Klang from Kuala Lumpur, launching on a ramp is not for the fainthearted but we are used to it now ,
We race in the fortnightly inshore harbour races at Royal Selangor Yacht Club( second overall in the seasons points) and have taken part in the 220 mile Raja Muda Selangor Regatta , stopping in Pangkor  and Penang before ending in Langkawi in November 2015. We also took part in the Royal Langkawi Regatta in  January 2016, results so so , but getting more speed now
Results have been mixed some very good, in light weather particularly she is untouchable but also in the very heavy Penang Langkawi leg with 25 knot ,close reach 40 miles in 6 hours , very hairy in big seas when we were only just seconds behind a  well sailed Farr 36
I love her…
lets see what this year brings , our club has adopted a sort of Mickey Mouse handicap system to  penalise us all if succesfulll
 currently on 1.1 IRC
wish all Impala sailors a successful season and anyone comes to KL please get in touch
jeremy camps
MAS 328 the Blue Angel
just a word on the name , starting with my Sonata ( musical theme! ) my boats were called Cabaret because    life is just a Cabaret . Before I bought the Impala I had decided to keep my Maxi Mixer 35 Cabaret 6 so I had to find another name, was hunting around when I came across Blue Angel , another story / film about a German night club made in the 30 s staring Marlene Dietrich , the theme song another oldie is Falling in love again I cant help it…..in German which I speak  its Die Blaue Engel  so thats how it happened . No regrets on the boat or the name