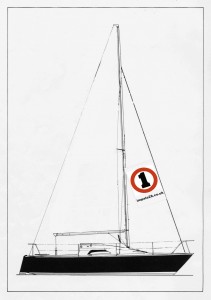 We're ordering some Impala 28 battleflags to announce to the world that the class is back and booming!
The Committee have decided that the Class Association will subsidise the cost of the flags by 50% for any member who wants one. We think this is a good deal and thanks you for your support of the Class.
This reduces the cost from £40.00 per flag to just £20.00 including VAT and P&P.
The Euros price would be 40 Euros and, as with your membership payments, we'd prefer cash – either in Euro notes or the sterling equivalent.
The flags are 1m by 1.5m and are screen printed for a longer life onto proper flag fabric with soft loops for flying. If you would like to buy a flag, we need to know by 1st July 2012 or you miss out forever.
Ordering is easy – email Jo Lloyd and tell her you want a flag. Payment – you can either pay at the Nationals or Jo will advise further! Email jo (at) gapcomm.co.uk or info@impala28.co.uk.
Non-members may also buy flags but the price is £30.00 and includes a year's membership of the class.