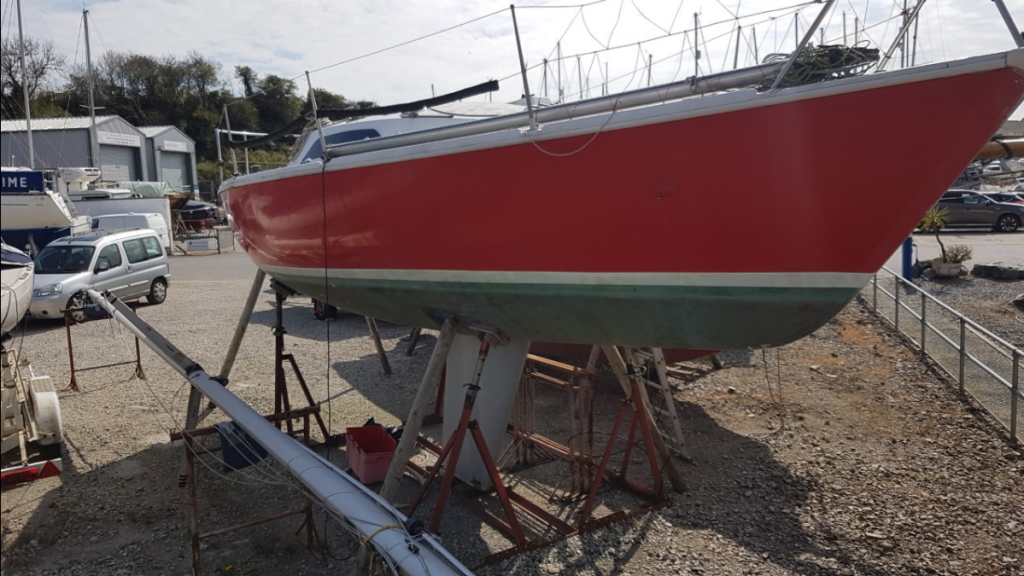 This is Magic. She is for sale. She has had most refit work done including engine overhaul with new fuel system, shaft, coupling, shaft seel, cutlass bearing and folding propeller. Along with the normal service stuff like new oil, filters and water pump impeller.
The bulkhead below the mast above the toilet door has been strengthened ( an Impala week point).The keel to hull joint has been resealed and filled ready for final fairing prior to antifoul . All original keel bolts have been replaced with stainless steel.The forpeek has been cleaned back and painted.
There is a new Jabsco toilet in box ready to fit.The main saloon area does need some cosmetic work however there is a new 2 burner stove and the chart table has been refurbished ready to fit back in. The headlining is off the boat with new vinyl ready for recovering. Some Electrical work is required Inc. battery. All instruments worked prior to refit and have since been removed cleaned and reseeled (they leaked).The bunk cushion require new covers.
All sole boards have been refurbed and varnished.The rig is in good Nick and I have an All Spars invoice for a not to long ago refurb. I have replaced the gooseneck fitting and have a Barton srutt to fit. It does need a new mast head light.The sail wardrobe is extensive with several no 1 headsails a fantastic blade, 3 kites, dacron training/delivery/cruising main and headsails.
Includes black carbon main and headsails in nice condition. Rudder is Mk.2 and comes with new carbon fibre tiller.

There is a cradle but that would be an extra on sale price.

She was purchased to race one design in Plymouth but has an endorsed IRC Rating of 0.882 (only one other Impala has this favourable rating)

There is so much I can say about this boat but best said over the phone or face to face with interested parties. I have more photos but struggling to upload them to this email. However she is the red boat on both the Facebook and website banner.

The sale is reluctant but due to personal reasons.

I am happy to talk to all interested parties. Chris Dawdry 07977338802.
£6500.00 to sell.