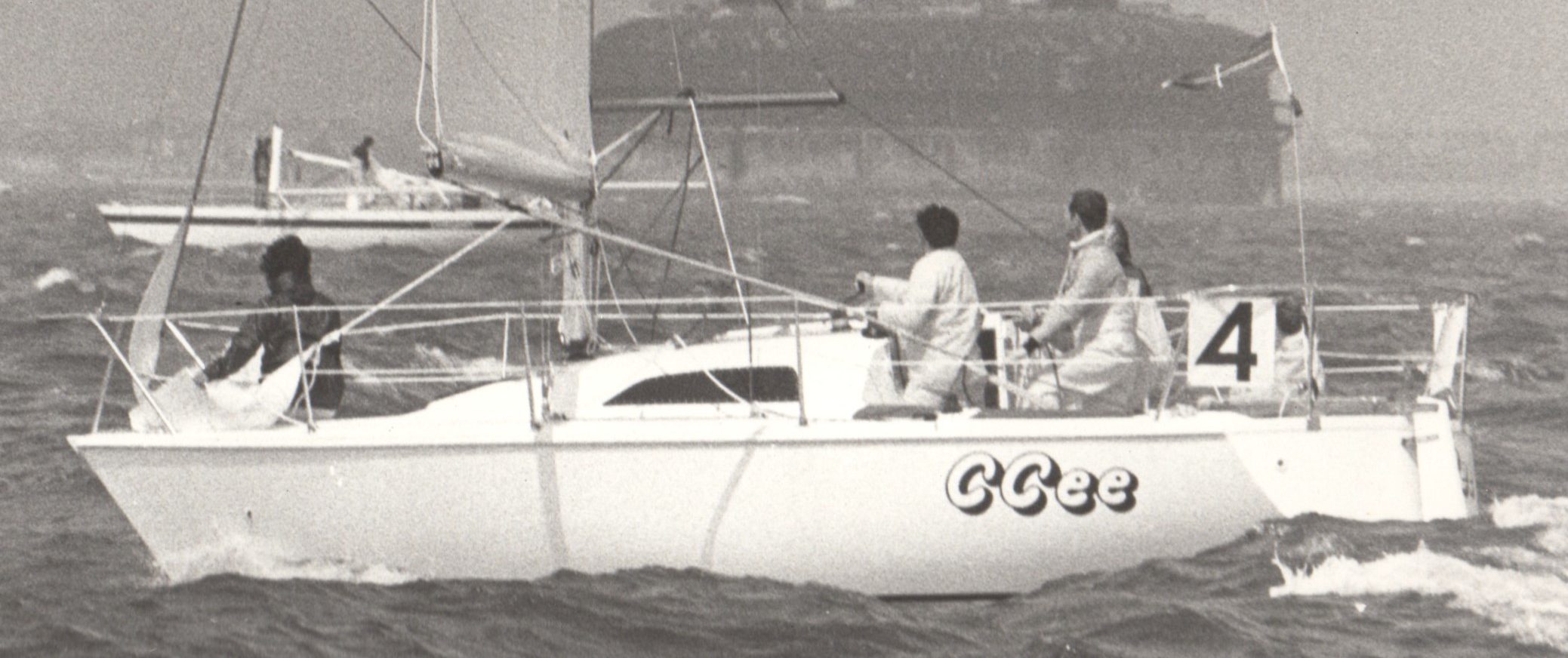 The initial design for the IMPALA evolved as a direct result of the formation, in 1977, of the Offshore One Design Council which was set up by a group of leading yachtsmen to encourage One Design racing. There were thirty designs submitted, including the IMPALA, of which three were given the support of the council. The first National Championship was held in Cowes in 1979 and was won by David Thomas, the designer. At a later Cowes Week he won the final race despite losing his mast on the final leg. The fallen spar crossed the line before the boat!
The event has been held every year since – see results archives here. The class rules have changed surprisingly little since the class was formed. The first main change was brought about by the change in the I.O.R. resulting in a rating increase. David Thomas designed a lead shoe for the keel and some internal ballast which had the desired effect on the rating. Most other changes were to make the rules more rational without altering the meaning too much. One change to follow progress was the allowance of Mylar No 1 genoas. 1988 saw the introduction of the inboard diesel. This has helped bring the class up to date. The engine adopted was the YANMAR 1GM (9 hp), (see rules). In 1989 the blade no 3was adopted along with some other minor changes. The following year saw a full width main sheet traveller, and 250 lbs of lead added to the outboard to standardize both inboard and outboard C.H.S. ratings. Since then, the class has seen full hoist No 2's, a new rudder and a lift on any restrictions on sailcloth.
Impalas have appeared in the boating press many times since 1979.
The latest was a four-page review in the May 2014 issue of Yachts and Yachting. (click image to view PDF)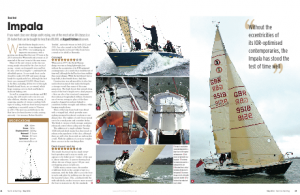 Yachting World report from 1994. "We won't ask you to read to the end to find out that we gave David Thomas and Peter Poland a big Thumbs Up!"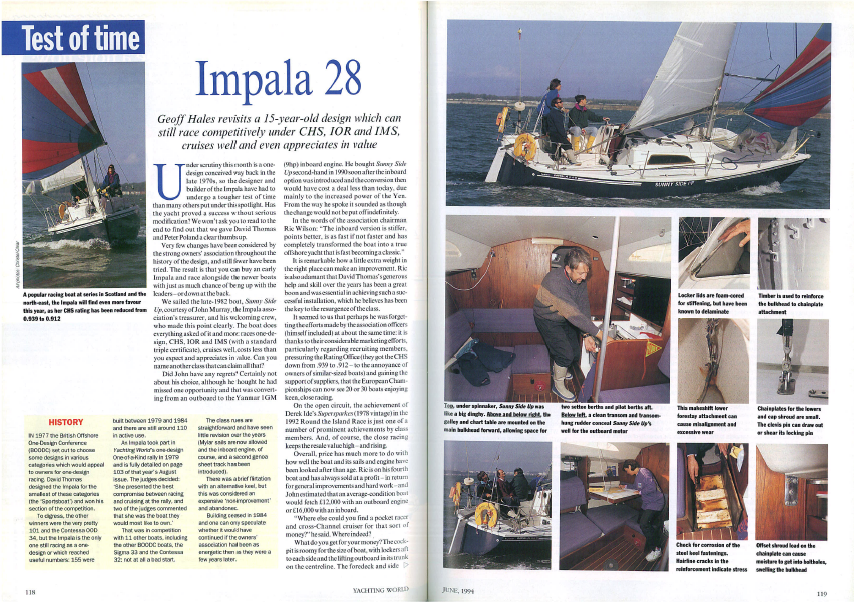 Review from Yachting Monthly from 1978.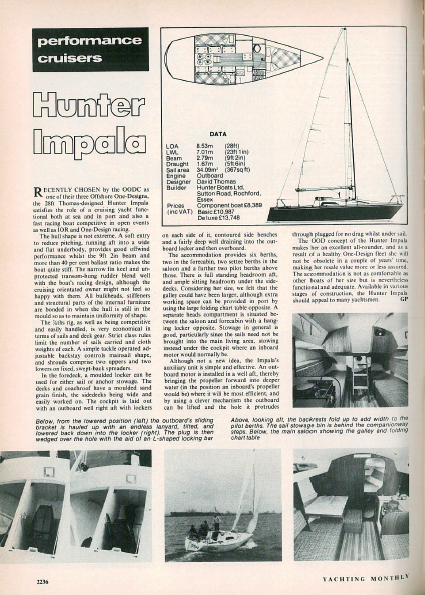 Yachting Monthly A-Z of secondhand boats, June 2002. It's wrong – the boat has 6 berths…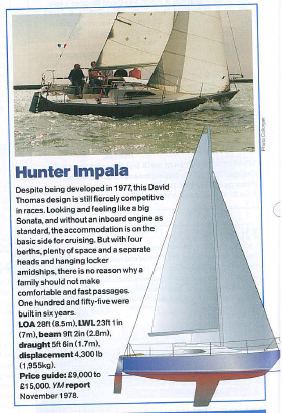 Here's what others had to say:
'The concept of the boat is as superb as it is simple. It must be the fastest 28ft cruiser/racer around and it's viceless into the bargain. It was designed from scratch as a One-Design, and that combined with its high quality glasswork and good design make it well worth buying.'
One-Design Review, YBO
'It should go without saying that such a popular boat is a joy to sail, and she is.'
Test of Time, Yachting World, June 1994
'The Impala impressed each of the judges for her compatibility for both cruising and racing roles.'
One-of-a-Kind Rally (One-Designs), Yachting World, August 1979
'For seagoing, the layout is right.'
One-Design Review, YBO
'The OOD concept of the Hunter Impala makes her an excellent all-rounder, and as a result of a healthy One-Design fleet she will not be obsolete in a couple of years' time, making her resale value more or less assured.'
Performance Cruisers, Yachting Monthly, November 1978