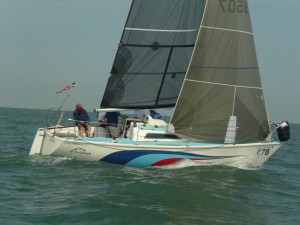 Upwlnd Sail Tuning for the Impala
Matthew Vincent, Dolphin Sails
Originally published in the '93 handbook

The following is a precis of Impala tuning hints from Dolphin Sails. We have found that a mast Rake of 15- 18″ (at masthead) gives good all round upwind performance without compromising downwind speed. Cap shrouds should be tight so that when sailing upwind in 18 knots with No. 1 set, the lee cap is still firm. This maintains good forestay tension. Because of the aft sweep of the spreaders when the caps are tightened pre-bend occurs which should be restricted to 1—2″ by tensioning lowers.
GENOA
Upwind the genoa should be sheeted to make all three sets of luff telltales break simultaneously. Below 15 knots apparent, maximum drive in the genoa is desirable and a draft of 16% in the middle and top should be the target. At the top end of No. 1 genoa range move the sheet lead aft one or two holes and depower the top and middle to about 14%. This does reduce overall drive but as a consequence importantly reduced heeling movement and side force. At the same time the distance between genoa leach and mainsail is increased. enabling the mainsail to be dumped more effectively.
MAIN
For a given condition the overall power of the main ls set with the backstay. outhaul, cunningham and sheet tension and kicker about 18 knots apparent. (These can be recorded for later reproduction in same condition.}
Then l think the main should be thought of as a door, or a flap rather like an aeroplane wing. With the use of a full width traveller the main is adjusted to an angle of attack to give a helm angle of 1-5°. This gives the helm 'bite' and helps to move the boat to windward. Any more than 5° of helm will have a braking effect.