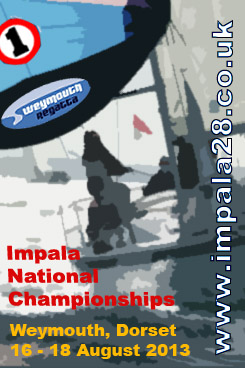 We can confirm that the 2013 Impala Nationals will be in Weymouth, from Friday 16th August to Sunday 18th.
The format is likely to be a longer coastal race on Friday starting at noon, followed by two days of inshore racing. Royal Dorset YC have negotiated us a discounted rate of £18 a night, berthing in the Cove. More details on the social and racing sides will be firmed up in due course.
There already looks set to be a good entry for this event – let's beat last year's turnout! See the Nationals page for more details – and let us know if you'll be there – email info@impala28.co.uk. We're also on the hunt for sponsors – please let us know if you have any good leads.
We'll see you in Weymouth!