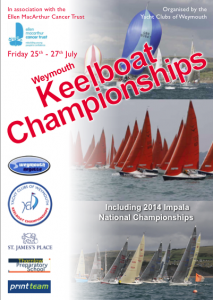 35th Impala Nationals – Weymouth – Friday 25th to Sunday 27th July
Preparations for the 2014 Nationals Championships are going well and we're looking forward to having a large fleet of Impalas in Weymouth at the end of July to celebrate the classes 35th Birthday.
To date we've confirmed:
· A 7 race series (2 Friday, 3 Saturday and 2 Sunday)
· Our own course area
· Our own committee boat, mark laying ribs and race officer (and a reserve race officer!)
· Reduced cost mooring in the Cove Area of old Weymouth Harbour for up to 20 boats (the same place as 2013) with shore access less than 3 minute walk from shops, cafes, self catering houses, B&Bs and pubs. Early arrivals should be able to moor there from the beginning of the week
The on-shore programme is also beginning to shape up. Provisional arrangements include:
· Thursday 24th – evening welcome party and competitors briefing at the Royal Dorset Yacht Club
· Friday 25th – pontoon party followed by a "night in" at our hosts Weymouth Sailing Club
· Saturday 26th – 35th Anniversary Dinner at Weymouth Pavilion, hopefully with multimedia, speeches, music and dancing (for those who want to!)
· Sunday 27th – Main prize giving – Weymouth Sailing Club
In the next couple of weeks we should be able to confirm reduced cost launching at the facilities in Portland for trailed boats.
More details including the Notice of Race and entry costs will be out in the next couple of weeks.
It's going to be a fantastic event, make sure you're there!
Barney Smith (35th Nationals Organiser)