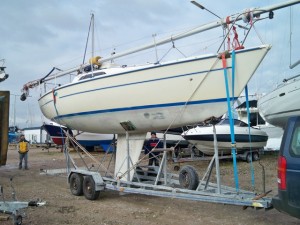 Great news if you're considering trailing your boat to the nationals.
We've managed to negotiate a great deal for boats coming by road to the Impala Nationals in 2015. Driver's Dry Berthing in Northam
will provide the following:
Lift off trailer
Mast stepping
Trailer storage for 10 days (if you're staying for the Round the Island)
Mast lowering
Lift back on to trailer
…for the price of £150 inc VAT. This is a great deal, especially in the Solent – it would normally come to £528 without the trailer storage!
T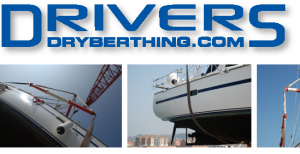 he yard is located on the river Itchen above the toll bridge, it's a short sail down Southampton Water and to Cowes from there.
If you'd like to borrow a trailer for the trip, get in touch – we have a pool of roadworthy ones which the owners are happy to lend out to visiting boats.
And finally, don't forget that if you're coming more than 100 miles by road there are travel bursaries of £100 available from the class association as a contribution to the costs.
Let me know if you'd be interested and I'll let the yard know how many boats to expect. Remember that you get three events for one road trip – the Nationals, Round the Island race and David Thomas Regatta – and if you stay around longer there's the IRC Small Boats Championships as well!