Or, the story of Vlad the Impala's first sail…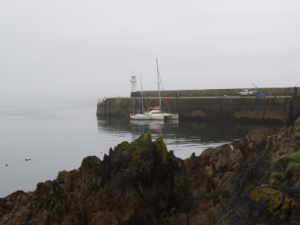 Martin Perry writes: 'After a winter of hard work which removed a couple of "barriers" to a sale, I had finally found a good home for Buster (my Sonata). The proceeds of this sale, together with a ten year saving plan that had matured the year before meant that I now had a big enough pot of money to look for a replacement. What to replace the Sonata with was easy – An old friend had suggested just after I bought Buster: "You should get an Impala, Martin". And so I did.
I had, obviously, been looking at Impala's on the web over the winter and had discovered that they were thin on the ground. This meant that I knew I would have to travel. So, at Easter, I flew up to Hull to view an Impala there. I got very excited about this yacht, made an offer, had it accepted, paid for a survey and discovered a few "issues" that I had not spotted. So, my offer went down, was rejected and the Impala in Hull went away….. I was rather disappointed when this occurred but a "wanted" ad I had placed on the Impala Owners Association website had led to an Impala in Cork (southern Ireland).
Hence, May bank holiday weekend found me on the red eye ferry from Fishguard to Rosslare and then driving to Crosshaven for a mid-morning appointment. The lessons I learnt from the Hull viewing, together with a checklist provided to me by the new owner of Buster meant that I did not feel the need for a survey this time. After a couple of hours grovelling around in the recesses of the hull, followed by a drive into deepest rural Co Waterford to view the cushions and a loft FULL of sails, a deal was done, deposit handed over and hands shaken. And that is how "Vlad the Impala" entered my life.
The next two weeks were a whirl of planning, organising, hiring, shopping, making lists and worrying! But on a Friday afternoon in mid May, Peter Forster, Gillian McCoy, Alastair Pratt and I convened at Alastair's old house in Southampton and stuffed his car full of kit before heading west. A stop for fish and chips at Gillian's house in Llantrisant and we were, once again, on the red eye ferry. An early morning drive from Rosslare got us to Crosshaven by 11am. Some paperwork was signed, more money was handed over, further hands were shaken and Vlad was mine! After raising the red duster and a courtesy flag, half a bottle of champagne was poured over the stern, with the other half being poured down our throats.
The afternoon was busy. While Gillian did a sterling job in the supermarket, Peter, Alastair and I worked on the boat, preparing her for the trip towards Emsworth. All was completed by 6pm, when we waved Gillian off in a car stuffed with the spare sails and everything else not required on the voyage. The three of us then sampled a few pints of the local produce in the RCYC bar before finding a very nice meal in a Crosshaven pub and falling into bed.
Sunday dawned sunny – After a long, cold winter, summer arrived in the nick of time! After jury rigging one of the lifelines which had sprung during the night (Heath Robinson would have been proud) we slipped our moorings at 8.30am and headed into the Celtic Sea. Due to a lack of wind, we were motoring and life soon settled down once we were offshore. We quickly discovered that the ship's compass needed to be swung and, after that, started heading in the right direction! After two gas rigs had been passed, there was not much to look at – Very few birds and no traffic at all. But this made for a less stressful trip (not that I noticed, being a nervous skipper). After a pasta supper, we headed into the night, sailing by now on a very broad reach. Many stars made for easy steering but I struggled to stay awake (I had not been sleeping well for the last fortnight). Thankfully, after my night watch, I did get some sleep. I awoke to find the Scillies on the horizon and an interesting approach had us moored off St Mary's by 10am. Having no tender meant we had to calculate tide heights so that we could work out what our "window" was for mooring against the Quay. Thankfully, this was about 4pm to 10pm, so after a snooze and lunch, we went ashore for showers, shopping, drinking beer and eating steak. Off the wall and back to a deep water mooring by 9.30 for a nightcap and bed at 10 – Stage one of Plan A completed.
Tuesday dawned foggy. Hmm. After much discussion, our planned early morning departure for the mainland was delayed. Peter then rushed around organising a ride ashore, so that he could get home in time to organise the delivery of his new yacht (and Baldur is brand new!). So, Alastair and I waved Peter off at about 9 as he had paid for a passage to Penzance aboard the tramp steamer that carries goods out to the islands. The fog was starting to dissipate by now and a call from Peter mid channel confirmed this. So Alastair and I departed St Mary's at 11.30 and headed east. More motoring and an uneventful trip with supper on the hoof (another Pasta Surprise from yours truely) found us in Newlyn by 8pm. A shower and a walk round Newlyn in the dark and the rain, before a swift pint in a dour pub and another early night.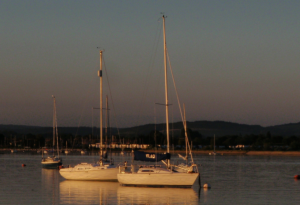 On Wednesday, once again I was awake at 5.15 (ugh!) to catch the early morning shipping forecast. I did drop off again before we departed Newlyn at 8 for a long day of motoring through mist, fog and mizzle – Not the best. We could hear The Lizard but did not see it! Our destination had been Fowey but after a quick consultation of Reeds and knowing that the weather was very settled, I asked Alastair "how about Mevagissey?". He was up for it so a sharp turn left and we were soon pootling into the outer harbour. There was a 50 foot catamaran moored next to the south pier, which we gladly used as a floating pontoon (after asking, of course). Mevagissey proved to be a very pretty Cornish market town. Thankfully, we had arrived before all the tourists and had a very pleasant evening ashore, once again sampling the local brew…
Thursday morning was disturbed by fishermen departing at 4am – I was not amused. Away by 8am, the day was another iron topsail workout. Still misty but improving and made very exciting by passing through a game of warships off Plymoutth. We saw about eight warships, mock fighter aircraft attacks, choppers flying around and Aldis lamp messaging. Very exciting as we motored along at 5 knots with Otto (the autohelm) steering while Alastair and I jumped around saying "look at that!" like a couple of school boys. Great fun! Start Point was rounded at 4pm and Dartmouth was reached just in time to fill up with fuel before the barge shut for the evening and we moored up at the marina.
Because of an impending house sale, we had all but decided to get as far as Weymouth and then leave Vlad (Plan B). This would give Alastair enough time to get all the different paperwork sorted over the weekend, as well as doing some packing. But, while passing the Eddystone Light, Nigel Higgs had texted me asking if I needed any crewing help. Well, I jumped at his offer and during the day many texts went backwards and forewards as we made our sedate way to Dartmouth. The outcome of which was that Nigel drove down to Dartmouth on Thursday afternoon and Alastair then took Nigel's car back to Southampton on Thursday evening. Having waved Alastair off, Nigel and I were fed and watered by the Royal Dart YC before a slightly later night.
It was really foggy in Dartmouth on Friday morning and I was a tad concerned about setting off at 6am. But Nigel said that it would be clear outside and he was right – As soon as we left the river we were in bright sunshine and looking back at a wall of fog. Very strange. Another day of motoring but the weather was stunning and Nigel worked on his tan while the highlight of my day was giving the heads a thorough clean. This was in preparation for Caroline Wilkins who was to join us next day. Portland Bill was rounded mid afternoon and as we moored up at the town quay in Weymouth, a friendly face was there to help (Tall Martin is a JOG racing friend and happened to be taking a break from his delivery job on the north pier and had seen the very clear name on the sail cover). The Weymouth flesh pots (OK, Weymouth SC) were visited that night and I poured myself into bed rather later than first planned.
Saturday started slowly but tidal gates meant there was no point leaving until 10am, which we duly did after Caroline had turned up earlier on the first train of the morning. Once again, lots of motoring but the Swanage seacliffs sparkled in the sunshine and we even got allocated a walk ashore berth when we arrived in Yarmouth. Result! Vlad's aft sun-deck was given it's first outing before a meal in Nigel's favourite Yarmouth pub (he seems to have one of these in every port – Better than having a girlfriend in each one, I suppose).
And so Sunday found Vlad and crew on the final leg. When I was planning Vlad's delivery from Cork towards Emsworth I had hardly dared believe that I would make it in one short week. I had Plan's B, C and D all ready to fall back on, with the worst case scenario being a hop across St Georges Channel to Milford Haven. This would have been the bad weather option but would have saved further ferry expenses. But, as it turned out, Sunday was another gloriously sunny summer's day and we departed Yarmouth at Noon, after a relaxed visit to the castle. The familiar waters of The Solent made for a relaxed journey back to Chichester Harbour. We even managed some sailing! So, by 6pm, Vlad was at rest on her new home in Emsworth Channel after an extra-ordinarily successful and memorable delivery. My heart-felt thanks to all who helped make it possible, especially Gillian who was a huge help but did not get any sailing!
As I write this, the clocks have changed and the weather is getting worse by the day. But I have a long list of jobs aboard Vlad to keep me out of mischief over the winter and I have already started to plan next season's adventures. Bring it on!