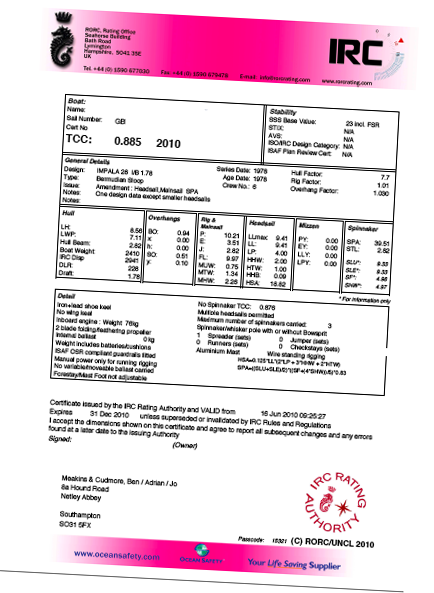 It is amazing how often I hear people say that the Impala has an "unbeatable" rating.  If this is true, then it is amazing to see quite how often even the quickest Impalas are beaten on handicap!  Don't get me wrong, an Impala remains a competitive prospect on IRC, but just how competitive depends on the conditions, your sailing area and, of course, the type and quality of your competitors.  The Impala does well against most of her peers, but will often struggle against much faster boats, especially in bigger seas; I would expect a reasonably sailed X-332 or J-80 to beat an Impala much more often than not.  The modernised quarter tonners are also a struggle to match.
It is therefore worth optimising your IRC rating as far as possible from the standard rating of 0.889 (2010).  However, bear in mind that the optimum rating might depend on the type of racing you do, your crew, and even your individual sailing style, so it is not just a case of getting it as low as you can.
However, here are a few areas to think about in optimising your boat for IRC.
Firstly though, a word of caution; remember that in order to keep your "endorsed" status, any measurements will need to be taken by a RORC measurer, or by a RORC approved sailmaker in the case of sail dimensions.
Weight
Most Impalas come out heavier than the class weight, so it is well worth having your boat individually weighed.  Experience suggests that you probably need around 55kg of extra weight for each 0.001 on the rating.
Of course, you can't do a lot to change the weight of your boat.  However, you can make sure that everything you are going to be racing with is included in your rated weight, which it might not be as standard.  Class rules only dictate one battery, but would you rather race with a spare?  Are you going to be carrying additional furniture like a table?
Furthermore, if you have an outboard boat, check the amount of lead under the floor before weighing the boat; many are short, and that will put you out of class.
Overhangs
When you are having the boat weighed, make sure you have the overhangs measured at the same time.  A common theme seems to be that the tip of the transom is higher from the water than the class standard suggests (yet the aft overhang is normally shorter, perhaps suggesting a measurement error on the class standard).
This seems to reduce the rating a fraction.
Sails
The first rule with sails is to make sure you are rated with what you've really got; sails tend to shrink with age, and it is therefore worth having them re-measured every year or two to make sure you take advantage of this.  You will find this suggested in the IRC handbook.
Whether or not to start with the class standard sail dimensions is a different matter.
Mainsail
I haven't come across any major deviation from the class standard here.  For IRC, get the cross-girths of the sail measured, and check whether you can actually get the sail out to the black bands when you pull everything on.  If you can't due to a small sail, then consider moving the black bands and getting these measured.
Genoa
On Monkey Business, we deliberately reduced the size of the no. 1 genoa quite significantly; I think LP was 4.00m when the sail was new (now slightly under that with shrinkage), compared with the class standard of 4.17m.  The logic was that in our home waters, we find we are most competitive against other boats in a light to moderate breeze, and were prepared to give a little of that up to carry a rating benefit, especially when it breezes up when we struggled more anyway.  However, this might not be for everyone; our half-tonner was under canvassed, so we got used to coaxing a boat along with a little less sail area than it should really have!
Another option might even be to rate with a rolling genoa.  If you don't intend to use a heavy weather jib, then this was worth around 0.005 in 2010.
Spinnaker
Views differ here.  I have always had a class standard spinnaker (albeit with any shrinkage carefully measured).  However, the Impala spinnaker is not huge to start with, and one of the times where she can suffer against half tonners, quarter tonners etc is down wind in light airs.  As such, Mike Harrison with Jiminy Cricket used to use an over-sized kite for IRC racing, accepting a slightly higher rating for that increased power.  Of course, that doesn't comply with class rules, so if you choose that route please don't use it for one-design racing!
To summarise, the golden rule will always be to be measured for what you have really got, but aside from that other changes are quite a personal thing, which is why you need to optimise your own rating.
Robert Leggett
Monkey Business