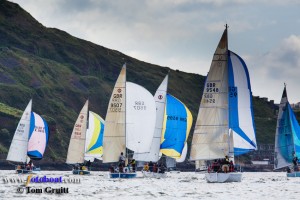 The third day of the Impala Championships saw a stiff breeze and some gusty, shifty conditions in Plymouth Sound that saw some boats shine and others slip down the rankings. Four tight windward-leeward courses were sailed, made all the more interesting by Plymouth's challenging tides and quirky windshifts. Local boat Imelda put in a great performance – never dominating the races outright, but always climbing their way stealthily through the fleet, mercilessly picking off any boats ahead. Positions changed constantly throughout the races – one-design racing at its finest! The final race saw a general recall before the black flag was brought out, and all boats made a clean start – apart from Polly, who was called over by the length of the bowman's forearm and disqualified.
After three days of close racing, Robert Boalch and crew on Imelda took home the 2012 Impala Nationals trophy. They sailed a consistently good series, never finishing outside the top four boats and making few mistakes to take the top spot. Matt Dodd's Fearnought came in second overall, with Barney Smith's Imptish sailing a blinding final day to gain three places, taking third. Kevin Palfreeman's Zulu came fourth, and Ben Meakins and Adrian Cudmore in Polly were fifth.
Martin Perry's Vlad the Impala received a well-deserved trophy for the worst delivery trip after their epic trip which saw 50 knots off Berry Head, with John McQuillan's Happy receiving an honourable mention after they beat into 25 knots and heavy rain for 26 hours to make the start.
Thanks go to the event's supporters – Westaway Sails, Wight Vodka, NIX-Digital and Coast Graphics – and to the Royal Western YC for running a fantastic 3 days of racing. Yacht Haven Quay, where boats were based, provided a fantastic service too. But the biggest thanks go to Kevin Palfreeman and Robert Boalch for their tireless organisation of the event.
The venue for next year's nationals is yet to be decided, but will be announced soon. See you there! We'd love to hear any comments on this year's event – email info@impala28.co.uk.
Final Results:
| | | | | | | | | | | | | | |
| --- | --- | --- | --- | --- | --- | --- | --- | --- | --- | --- | --- | --- | --- |
| Place | Points | Sail No | Name | Owner | Race 1 | Race 2 | Race 3 | Race 4 | Race 5 | Race 6 | Race 7 | Race 8 | Race 9 |
| | | | | | 13 Jul | 14 Jul | 14 Jul | 14 Jul | 14 Jul | 15 Jul | 15 Jul | 15 Jul | 15 Jul |
| 1 | 11 | 9510 | Imelda | Robert Boalch | (3) | 1 | 2 | 3 | (4) | 2 | 1 | 1 | 1 |
| 2 | 15 | GBR9571 | Fearnought | Matt Dodd | 1 | 3 | (6) | 1 | (8) | 3 | 3 | 2 | 2 |
| 3 | 24 | NED9616 | Imptish | Barnaby Smith | 5 | (7) | 4 | (7) | 2 | 1 | 4 | 5 | 3 |
| 4 | 26 | 9609 | Zulu | Kevin Palfreeman | (6) | 5 | 1 | (6) | 5 | 5 | 2 | 4 | 4 |
| 5 | 33 | GBR9500 | Polly | Ben Meakins/Adrian Cudmore | 4 | 2 | 3 | 4 | 6 | (7) | 7 | 7 | (13/BFD) |
| 6 | 34 | GBR9594 | Impulsive | Allan Bancroft | 2 | 4 | 7 | 9 | 3 | 4 | 5 | (11) | (13/DNS) |
| 7 | 44 | GBR9599 | Maverick | Frank Ellwood | (13/DNF) | (12) | 8 | 5 | 9(20%) | 8 | 6 | 3 | 5 |
| 8 | 48 | 9542 | Wisecrack | Roger Stanbury | (11) | 6 | 10 | 2 | 1 | (11) | 11 | 10 | 8 |
| 9 | 54 | GBR9507 | Jiminy Cricket | John Williams | 7 | (10) | 9 | 8 | 9 | 6 | 9 | 6 | (13/DSQ) |
| 10 | 56 | GBR9518 | Happy | John McQuillan | 8 | 8 | 5 | (10) | (11) | 10 | 10 | 8 | 7 |
| 11 | 63 | GBR9564 | Atalanta | Stuart Higgins | 9 | (11) | 11 | 11 | (12) | 9 | 8 | 9 | 6 |
| 12 | 77 | GBR9548 | Vlad the Impala | Perry Martin | 10 | 9 | 12 | 12 | 10 | 12 | 12 | (13/DNF) | (13/DNS) |