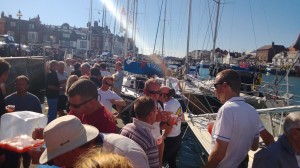 Day one of the 2013 Impala Nationals saw a damp 18-22 knots that gave way first to fog and ended in brilliant sunshine and 8-10 knots.
The course started deep in Weymouth Bay, starting with a beat to the Nothe, followed by a run to a mark off White Nothe, before heading back upwind to a mark to the south of Portland harbour, with some interesting shifts to contend with. A final run back to White Nothe was followed by a final one-sided beat, where a 30 degree windshift saw positions change throughout the fleet.
Imelda recovered from an early navigational error to win the race, chased hard by Fearnought. Astern, after a close battle, Polly snuck ahead of Uproar (4th)  and Happy (5th)  to take third.
Tomorrow has three races planned – and the 12 crews rafted in the Cove in Weymouth are hoping for the forecast to moderate!
Day one results:
Impala nationals coastal race
1st Imelda
2nd Fearnought
3rd Polly
4th Uproar
5th Happy
6th Trudi
7th Firebird
8th Magic
9th Zulu
10th Two Frank
11th Curved Air
RET Imptish