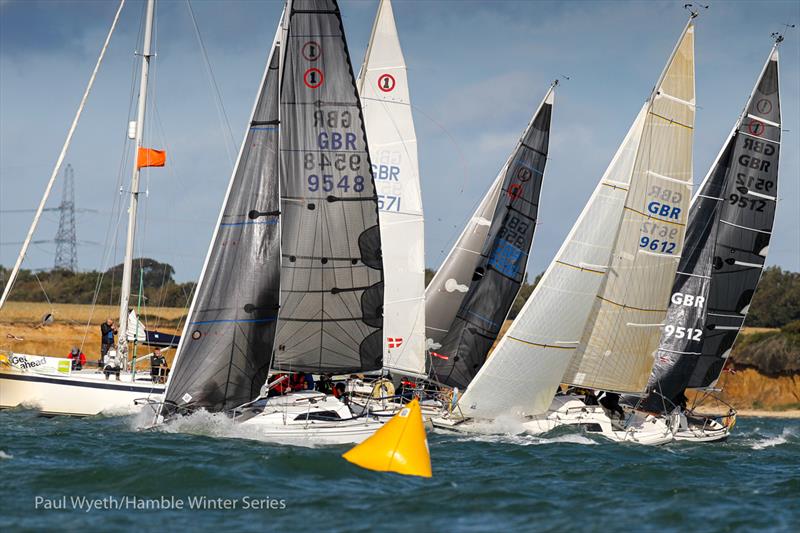 9 Impalas entered the Impala Solent Championships, held as part of the Hamble One Design championships over the weekend of 2/3 October.
A somewhat biblical forecast and a positive COVID test led to a couple of boats deciding to stay put for the weekend, but 7 braved the weather to enjoy some fruity conditions, with the breeze barely dropping below 25 knots all weekend.
Some slick race management meant that the race team were able to get two races completed before the wind built to the anticipated 25 – 30 knots at 12.30 on Saturday. With the wind in the south the CV had only had to reach Clipper to lay a windward/leeward course. The added benefit of this was that when conditions became fruity the boats could quickly dash back up the Hamble River – and the boats came back alongside as the wind began to really howl.
Sunday started with lighter winds, but three races later it was blowing 35 knots and definitely time to head home. Nonetheless there was some good racing, no major breakages and some seriously exciting sailing.
Results
Rank
Sail
Number
Type
Name
Owner
Race
1
Race
2
Race
3
Race
4
Race
5
Net
Pts
1
GBR9500
Impala
Polly
Ben Meakins
(1)
1
1
1
1
4
2
GBR9548
Impala
Vlad the Impala
Peter Dessent
(4)
2
2
2
3
9
3
GBR9612
Impala
Bambi
Richard Harding
3
3
(4)
3
2
11
4
GBR9512
Impala
Cheeky Monkey
Aiden Barr
5
(6)
5
4
4
18
5
GBR9571
Impala
Fearnought
Uta Griesenbach
(8/NSC)
4
6
5
5
20
6
GBR9561
Impala
Uproar
Andy Chapman
6
7
3
6
(8/DNC)
22
7
GBR9616
Impala
Imptish
Barnaby Smith
2
5
(8/DNC)
8/DNC
8/DNC
23