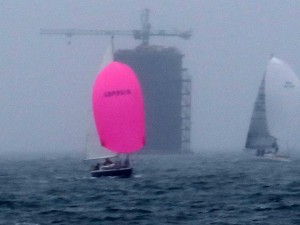 Saturday saw the first race of the 2013 JOG inshore series. Impalas Magic and Two Frank competed : here is a report from Two Frank's race. "Wet, wild, and windy is the best way to describe Saturday's racing out to the Nab East buoy, as we were lashed by rain all day, and wind speeds topped 30 knots. Team Frank put on a strong performance to grab an incredible and well-deserved 2nd place in our first JOG race, and only the fifth time we've raced the boat!!
A strong east-going tide made for a tricky start off West Cowes, not helped by a minor BST/GMT hiccup, corrected shorty before the warning signal! After an indifferent start, we took to the southern part of the course, chasing the strongest tide right through to Dean Elbow, before again choosing the southernmost route, staying up with the leading pack as the fleet split.
Following an 'involved' debate about which kite to hoist, we went with the pink, (heavier cloth, broad reaching cut) much to the helmsman's disdain (!). In spite of the controversy, this decision bore fruit as soon as we had rounded No Man's Land Fort, with the stronger winds and tighter reaching angle really working to our advantage.
A perfectly-timed and executed drop by Peel Bank let us stay in the better tides and set us up for a (still pretty rapid) white-sail reach across the Gurnard line.
All in all great race, which we finished in 4:49:18, a very decent time, with a top speed of 13.4 knots as we rode one particularly hairy wave!!"