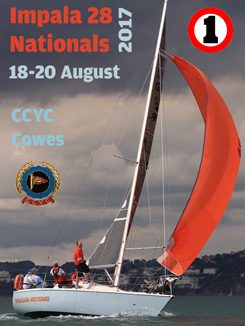 Entry for the 2017 nationals at CCYC in Cowes is now open!
We look forward to seeing you there- we're expecting a huge entry this year!
Visiting boats: A lift in, mast lift and trailer storage deal is available from Driver's Wharf in Southampton. The class association is also offering £200 travelling bursaries to those coming by road, which will pay for the lifts – get in touch via info@impala28.co.uk if you'd like to take advantage of it.
Scrutineering: There will be much heavier scrutineering this year. Details will be circulated in due course, but each boat will be expected to comply with the class rules. The aim is to level the playing field, so if your boat needs looking over prior to the event, or you need advice, get in touch! (info@impala28.co.uk)
Berthing: Boats will berth at Shepherds Wharf during the event and we have pre-booked a corner of the marina.
Socials: There will be the infamous pontoon rum party on Friday, followed by a BBQ at the club. Saturday will have a dinner followed by a band.
Racing: There will be a total of eight races – three each on Friday and Saturday and two on Sunday, with a mixture of round the cans and windward-leeward races.