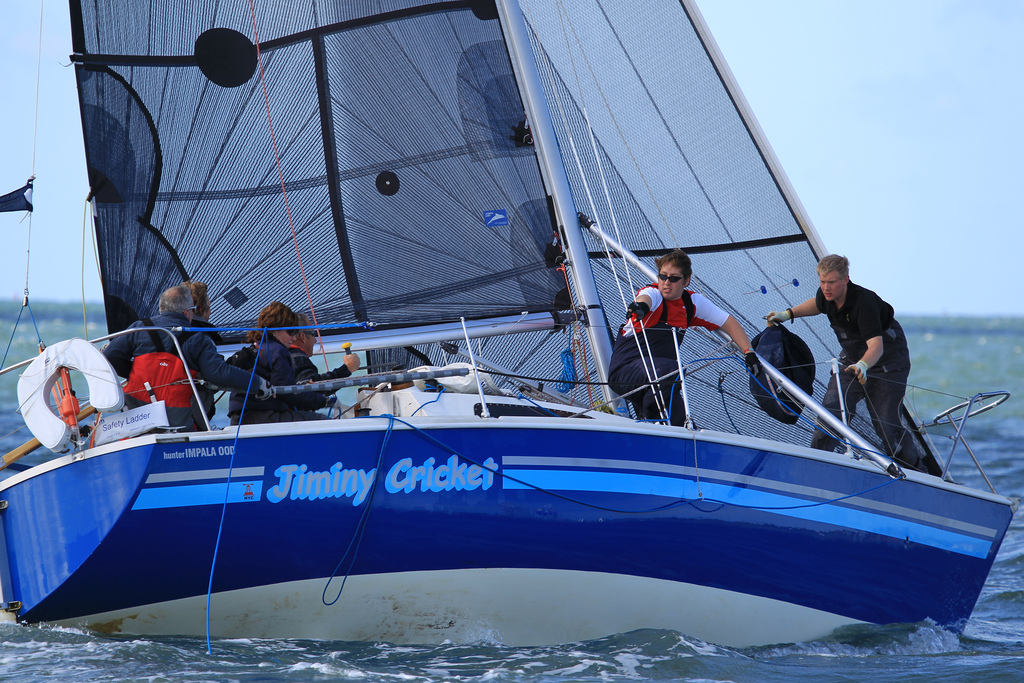 News from Wales, where Inca, Jiminy Cricket and Apollo recently took place in the Dale Weekend bank holiday regatta.
John Williams from Jiminy Cricket writes: 'We competed in IRC 2 with the other Impala, Inca, unfortunately Apollo did not have a valid IRC certificate to compete so had to sail PY1 but still sailed the same course. 
Day 1 – Offshore race – Heavy winds gusting up to 29kts, Inca and Jiminy Cricket opted for one reef and no3, Inca had the jump at the start and led to the first windward mark, we then went out of the heads where the wind eased slightly as we came off the wind and we shook the reefs out, we then had some serious chop out at sea but we stayed within 4 boats of each other until we came to the final windward mark where an exciting spinnaker run with speeds in the teens took us to a reaching mark home where Inca hoisted their new asymmetric spinnaker and started to gain an advantage over the next 2 mile leg as we had to carry on with the no3, on the final leg on the way home we managed to hoist the spinnaker to try and catch Inca and with a
vicious gust managed to blow our spinnaker to bits and then limp home in 3rd place , with Inca 1st and a Sigma 33 splitting us.
Day 2 – 2 can races, much the same as the previous day but both boats holding full main and No2, with Inca being protested at the start and having to do a 360 but powering back through to win on a lucky wind shift, Again the Impala's split by the same Sigma 33 with only 1 min 22 secs between the 3 of us.
Day 3 – 2 Triangular Olympic courses – winds easing down to 18kts so all Impala's running full rigs, the usual mayhem at the start caused a general recall as we were on the same course as the large PY1 Fleet, but this is where the Impala's came into their own as we all easily pulled away from the fleet and both Impala's reached the windward mark first, and then proceded to smash the rest of the fleet on the following course even mangaging to catch the 707 sports boats that had started 5 mins earlier, both Olympic courses resulted in an Impala 1/ 2 with Inca the victor by 5 and 12 seconds repectively with the Sigma coming up the rear.
It ended with IRC 2 final results for the 3 days.
1) Inca – Fred Fisher
2) Partisan – Sigma 33 – Dan Lewis
3) Jiminy Cricket – John Williams