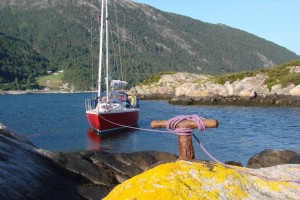 An impressive tale of a serious Impala voyage from Dave and Jeanette Hardy and Black Magic.  They've just returned from a 2,000 mile, three-month cruise from Liverpool to Norway and back, taking in the Caledonian Canal, Cape Wrath and the North Sea en route.
"There were some at our yacht club who seemed surprised; although categorised as a cruiser racer at twenty eight feet an Impala is not usually used for three month cruises from Liverpool across the North Sea to Norway. To us it was just an extension of two earlier trips on the West coast to the Inner and Outer Hebrides and Irish Coast . On these trips and during racing our Impala 'Black Magic ' had always been impeccably behaved and never gave us any cause for concern despite some difficult conditions."
Read on and follow Black Magic's impressive cruise on the new Cruising Section of the website. Been anywhere good this year? Send it in!