The David Thomas regatta at the RSrnYC has been rescheduled for the 23rd August.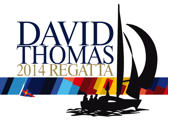 'The Royal Southern Y.C. is pleased to announce that they have set a new date for this regatta, which was cancelled in May due to adverse weather. The format will be NHC racing for the racers, and Solent Snooker for the cruising section on Saturday, and an informal supper in the evening.'
Don't forget there's also a day of racing at the Royal London YC's Long-running David Thomas event the day after the Round the Island race. 3 Impalas currently are planning to race in the event, which was great fun last year.