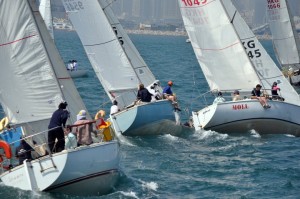 An update from the far side of the world: Gaston Chan writes 'In the summer our wind comes from the south, and Hong Kong Harbour is in a wind shadow, so most of the racing moves to Shelter Cove to the east of Hong Kong.  HHYC runs the Typhoon Series on Sundays and a Saturday Series on alternate weekends.
Impala 1 won Div D in 2010 and wanted to defend our title in 2011.   The HHYC race committee thought that the Impalas were winning too many prizes in Div D and wanted to split us into Div E.  After a frank exchange of views, the Impalas agreed to this as long as we have the same start and do the same course.  It was not about prizes, it was about seeing how we do against other IRC boats.
Seven Impalas entered the Typhoon Series 2011.  Taxi lead from the beginning of the series, but Also Can, skippered by RHKYC Commodore Ambrose Lo, and Impala 1 all had a chance to win the series at the start of the last race.  Also Can was leading Impala 1 at the last windward mark, and we had a gybing duel all the way down to the leeward mark.  At the last gybe before the drop, AC had a spinnaker wrap around their forestay and could hoist their genoa.  Impala 1 rounded and covered them all the way to the finish line, winning the series by one point.
Last weekend ABC held their Opening Regatta in the waters south of Hong Kong.  Boss Hogg was the winner in Div 3 for the last two years.  Impala 1, Moll, and Caviar decided to go give them some competition.  Saturday was around the cans, three sausages per race.  Impala 1 won the first race, and Boss Hogg the second.  It all came down to the Island Race on Sunday.  Impala 1 was first to Po Toi Island, but Boss Hogg had better local knowledge and hugged the coast to stay out of the current and get more pressure off the shore.  They rounded and got their kite up first.  We followed them all the way to the finish.  Boss Hogg won by one point.
Three Impalas stayed in the Harbour over the summer and raced in the Sunset Series.
Rainbow Chaser won the series by half a point.  Caviar won the last race and was 4th overall.
The HK Impala fleet is now back in the Harbour.  Racing starts
this Saturday.