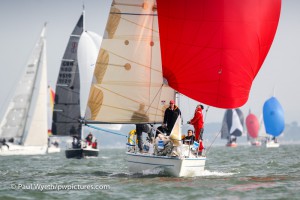 The Garmin Hamble Winter Series continues in balmy (for October) weather!
The 8-strong Impala fleet has been getting closer and closer, with positions changing constantly.
This week, Uproar, resplendent in her new orange wrap, pushed Polly hard for 1st in the first race of the day, just dropping back at the leeward mark. Uproar and Imptish had a good battle in the second race, and close on  points with Uproar just edging by two points overall.
Come and join us! And we want to hear about what you're up to in your part of the world – email us at info@impala28.co.uk now!
Overall results: