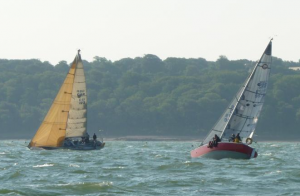 Magic and Two Frank competed in the inaugural JOG Cowes-Lymington race – briefly summarised as 'round the island the wrong way and a week too late' by another name!
Magic finished 4th in class 6, with Two Frank finishing 11th. Here's Magic's report: 'The day started with a stronger than forecast North Easterly and plenty of sunshine so a sail change was necessary before the start stepping down to a #2 genoa. It was noticeable that with a beat to start, many of the class had gone straight to a #3 jib but the extra power through the wind over tide chop on the way down to the forts showed and Magic was among the front runners at the first mark, No Man's Land Fort.
The shy reach to Bembridge Ledge followed with some kites going up early whilst other boats, Magic included, heading offshore to set up a freer angle for the mark. Those boats that were able to hold their kites longer gained ground here but they continued offshore whilst Magic was alone in gibing into Sandown Bay. By Dunnose Point the gains were clear and Magic had closed up on the leaders despite her handicap having her as being a significantly slower boat. A series of dramatic broaches off St Catherine's Point preceded a glorious white sail reach up to Bridge Buoy, one mile West of the Needles Lighthouse with Magic completing the leg only four and a half hours after leaving Cowes and with just a few miles to go to the finish.
The tide through the Needles and Hurst Narrows is legendary and in fact the race was only half over. Taking out of the worst of it, Magic, along with several other boats headed back to the south before going through the gap between the lighthouse and the wreck of the Varvassi. A taxing beat in the tidal relief of the shallows followed and despite a fairly impressive time to Bridge, she had missed out on the best of the tidal relief meaning the front runners had a huge advantage on which most of them capitialised.
Four hours long hours after passing the final mark, Magic made it across the line to a fourth place which sees her up to second in the provisional points standings.
George Beevor