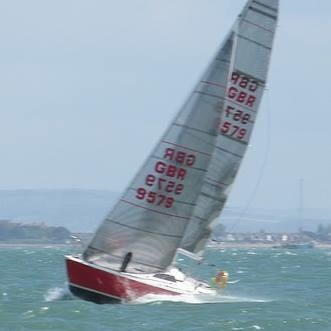 Yarmouth Report, Olly Love, Two Frank
Arriving in Hamble with rain falling it looked like a dull weekend.
However as we left the dock the sun came out and so did the shorts. With a forecast of 10-15 knots and a change of course already being announced we set up for a downwind start. As the course came in we were a bit surprised for a long run down to Warner with a beat to South Bramble then finish Yarmouth.
As the 5 min gun went the wind went up from 15-25 knots and kites were popped. We flew off down to warner at 9 knots taking an early lead. While boats were broaching out left right and centre the impalas crept to the front. Unfortunately Cheeky Monkey blew their kite out and proceeded with poled out jib. With impalas 4,5,7th round the first mark we set off on the long beat. Two Frank and Imptish decided that the no3 was the right choice for the 20-25 knots wind. Where Magic thought that the No1 was the right choice. With 6 crew on board frank soon overtook Imptish and with magic struggling with a bit too much canvas up they dropped back. The wind eased a little around Cowes to enable magic to catch up and frank to peel to a No 2. The Impalas took 5,7,8,11. After a few beers on the Royal Solent balcony a good dinner was had at the Wheatsheef.
Sunday Dawned with 1-2 knots building to a roaring 5 knots and a shortened course. The start was very sedate with Imptish taking an early lead. Frank caught a good gust and got into the favourable tide early and was away. With cheeky monkey finding the only wind on the course to take the lead for a good section of the race only to lose out with a wind shift.
Frank took the 4th with Imptish 5th, cheeky monkey 7th and magic 10th.
The next impala racing will be the nationals.