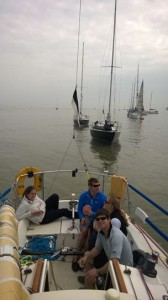 Five Impalas – Cheeky Monkey, Polly, Imptish, Magic and Two Frank – raced in the JOG Cowes-Yarmouth and Yarmouth-Cowes races at the weekend. Saturday's race was postponed for a few hours, before the west-going tide produced just enough apparent wind for class 6 to drift over the line. Unfortunately the race was abandoned shortly before a SW'ly seabreeze filled in, but at least that left the afternoon to enjoy the sun in Yarmouth – although that might also explain some of the hangovers on Sunday morning.
Sunday's return race started as a light-airs fetch, but off Gurnard a stonking 15 knot SE'ly filled in for the final two legs. Polly was first Impala, finishing 2nd overall on handicap, with Imptish in 7th, Two Frank in 9th and Cheeky Monkey in 14th. Magic retired.
A great weekend in Caribbean conditions, despite Saturday's lack of wind. The next event is the Clarkson Cup in two weekends' time.