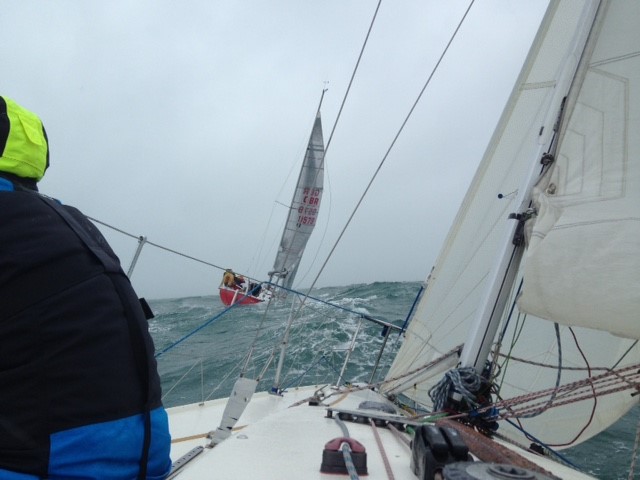 6 Impala's were down on the start list for last weekend's JOG Cowes to Poole race. One took a very sensible decision to stay tied up on Saturday morning leaving the remaining five (Spectrum, Imptish, Magic, Scallywag and Cheeky Monkey) to take on a double challenge of water and wind. Freshwater in bucketloads from the sky all day, salt water over the bow (and down the companionway for some boats…), and up to 30 knots of wind. In short this was a not a trip for the fainthearted!
This author's recollections of Saturday involve mainly involved the previously mentioned wind and water, watching Cheeky Monkey and Spectrum disappear over the horizon before Hurst, and some exciting close quarters sailing next to Magic in the 2-3m high waves. Scallywag, in their first JOG race, were late to the start but rolled up in Poole just in time to see the sun come out for a few beers at the watering hole.
Results wise, Spectrum scored a well deserved win on handicap, convincingly beating a Corby 25 into second, and finishing 15 minutes on the water in front of Cheeky Monkey, and even further in front of Magic, Imptish and then Scallywag.
Saturday night's entertainment revolved around drying things – cushions, clothes, sleeping bags etc. – and eating and drinking, plus the usual Impala gossip.
Sunday dawned sunny and beautiful. There was a small problem though. Absolutely no wind. We motored out of Poole Harbour and sat around a bit while the AP flag hung limply from the committee boat. Then a light southerly breeze appeared and we were off! Imptish's pizza and cider diet from the previous night had clearly worked as we shot off at the front of class six, swapping places with the Corby. The others followed. Once in the Solent the breeze tried to strengthen, then it went down, up, sideways, backwards and from above giving everyone a challenging approach to the finish.
This time Imptish came out on top on handicap with Cheeky Monkey 3rd, Spectrum 4th, Scallywag 6th and Magic 7th. So an Impala class double in JOG Class 6. The rest of the fleet are getting a bit fed up with us.
With just one race to go (Lymington on October 1st) Polly is in 2nd place overall for the season in JOG Class 6 and Reaction 3rd. All to play for!