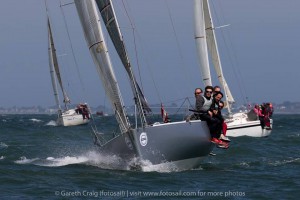 Richard Harding writes from Dublin: 'The 6th, bi-annual, Dun Laoghaire regatta took place from the 9th to the 12th July. There were over 400 boats competing in a wide range of classes form dinghies to offshore cruisers, and the Impala class was represented by Bambi, GBR 9612, which is now based in Dun Laoghaire, under the ownership of Richard Harding.
A scratch crew of local sailors, and imported Impala specialists (Ben and Steph from Polly) assembled and final preparations were made on the Thursday morning prior to the regatta commencing on Thursday afternoon. Racing was held in Dublin Bay on the North and Central race courses. The first two days were windy and sunny with frequent gusts of 35 knots and lots of thrills and spills – evident from the fact that the Dun Laoghaire lifeboat was called out three times. In Class 4, the leaderboard was dominated by Quarter Tonners with Cri Cri (Paul Colton) and Starflash (John Simms) leading after Quest, another Quarter Tonner, and pre regatta favourite, lost her rig. Bambi recorded 6, 4, 4 as the smaller boats hung in incredibly well both upwind and downwind.
Saturday and Sunday were a little lighter with 10-15 knots. Bambi executed a port end flyer in the first race on Saturday and was never headed to take line honours and first on IRC. However the second race of the day produced a disappointing 8th when the middle of the second beat provided no insurance against a big shift to the left.
As Sunday dawned, the Saturday night party was only just concluding and a number of fuzzy heads took to the water for the final race. Bambi lay 4th, 3 points behind DI-RICH, a GK24 from Liverpool, and two points ahead of Stargazer, a Grand Soleil 34 from Arran. Another good start and a safe first beat helped Bambi round the windward mark first, from Cri Cri, who already secured first place overall. Bambi and Cri Cri battled it out for nearly two hours in perfect conditions with 10 knots and flat seas. Unfortunately Bambi finally let Cri Cri out of her clutches and finished second, just 14 seconds behind on corrected time. The upside was that DI-RICH only managed 5th, allowing Bambi to take third overall on count back thanks to the victory in race four.
The prize giving was a rather damp affair, but an Abba tribute band and the customary Guinness ensured that party continued till the last. All in all, it was an incredibly enjoyable regatta with great competition, good winds, easy access to the race tracks, and all the hospitality that the Irish have become famous for. It could only have been improved by the addition of a few more Impalas!